"This little gadget is a real money saver! I was constantly throwing away food that was just days old! I'm so glad I came across this easy-to-use electric vacuum sealer."
- Andrew G., Favor Pick™ Store customer
🔥LIMITED STOCK! ✈️FREE-SHIPPING! 40% OFF! GET YOURS NOW!!!🔥
Not in a good mood when eating? Too full to finish all your dinner? Buy in bulk and worried about storage?

This happens to anyone, any family.

This Electric Food Vacuum Sealer is the solution to all your food storage needs. It keeps food fresh in the freezer up to 5x longer, compared to ordinary storage methods, allowing you to save money based on buying in bulk, on sale, and preventing waste.
Ordinary storage methods trap air, affecting the food's nutritional value, flavor, and overall quality. But the Electric Food Vacuum Sealer removes all of the air from the sealed container, extending the life of food.
According to new research published in the American Journal of Agricultural Economics, the average American household wastes nearly one-third of its food. The squandering comes at a cost: $1,866 a year per household. 
You SAVE more than $1,800 EACH YEAR by preserving food with Electric Food Vacuum Sealer. Stop WASTING your time and money!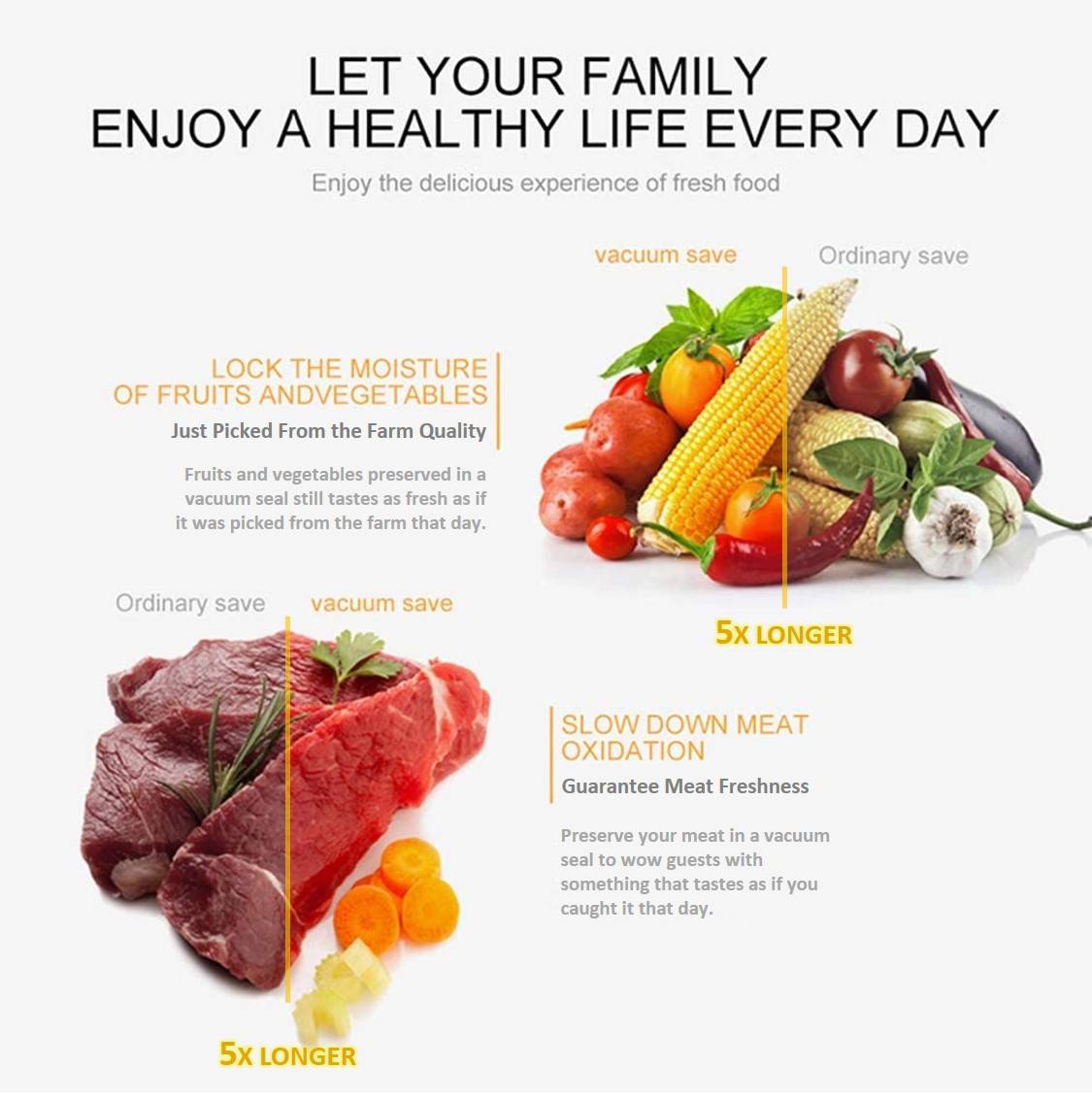 Order it right now and we'll throw in a 10 piece storage bag bonus just for you!
Electric Food Vacuum Sealer Features:
✅EASY OPERATION - Automatic Vacuum Sealing System is fully automatic with the control center placed on the top panel with soft-touch digital buttons and led indicator lights.
✅TWO SEALING FUNCTION - The Vacuum Sealer can vacuum seal and separate the sealing. Keep food fresh in the freezer up to 5x longer and in the fridge or pantry up to 3x longer, compared to ordinary storage methods.
✅POWERFUL SUCTION - The Food Vacuum Sealer is a powerful suction device that provides total elimination of the air from the bag. It preserves freshness on your food and can be used to store any food possible from fruits, vegetables, meat to fish, etc. cutting down on wasted food and cutting down on freezer burn.
✅CONVENIENT STORAGE - The sealer bottom has two pieces of magnets that can be attached to the refrigerator for convenient storage and access.
Specifications:

✓ Rated Voltage: 110V AC
✓ Rated Frequency: 110V/50 Hz
✓ Rated Power: 100W
✓ Vacuum Pressure: -60 kPa
✓ Sealing Length: 30cm
✓Size: 36.5*5.5*5.0cm
Included:

— 1 x Electric Vacuum Sealer for Food
— FREE 17*25cm Bags (10 pcs)


OUR GUARANTEE
No-Risk, 30-Day Money-Back Guarantee
✔️Responsive and Reliable Customer Support
✔️100% Quality Inspection on every order
✔️Unlock FREE Shipping. No surprises or hidden fees
✔️Safe Payments via Credit/Debit Card or Paypal®
✔️End to End Tracking for every order