With summer comes outdoor festivals, fun activities, trips, camping, airy dresses, picnics in the park, barbeque and a lot more but no ones wants to deal with sweltering heat and exhaustion that comes with it!
If you also cancel all the plans during long summer days or want an affordable and effective way to beat the heat,  then it is time to welcome EasyCool™ in your life, that can effortlessly cool, humidify and purify the air around you.
Unlike fans that just move warm air around your room, or air conditioning units that cost a fortune, This mini USB air cooler is a complete solution that provides Cooling, Comfort, Control, and Convenience, no matter where you are!
FEATURES:
Evaporative Technology with 3-in-1 Cooling: EasyCool™ COOLS, HUMIDIFIES and PURIFIES your personal breathing space while eliminating the bacteria so that you can stay cool and enjoy clean, refreshing air. Using Natural Evaporative Technology, EasyCool's multilayer -filter filters the hot, dry air and turns it into a cool and soothing breeze,  keeping you refreshed even in the midst of a heatwave.
Your Personal Air Cooler: Now beat the heat like never before! Whether you are home or sitting in a stuffy office, EasyCool™ provides you the best features of both fan and air conditioning in one compact design. It's lightweight so you can carry it for cool and moist air anytime anywhere. A must-have for both indoor and outdoor activities, this space saving air cooler gives you optimum moisture level, temperature, and even airflow distribution which makes it perfect for dorms, offices, camping, traveling and more.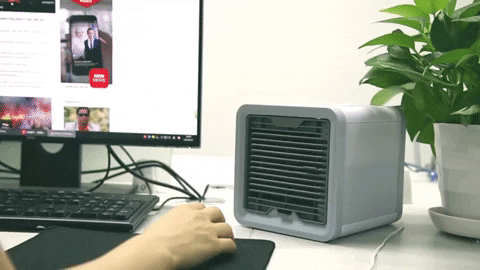 Energy Efficient & Eco-friendly: Using Air conditioners not only add onto your utility bills but also affects the environment. With EasyCool™  you can have fresh & filtered clean air without worrying about huge bills. This mini air-cooler consumes less than 10W of electricity, doesn't use any chemicals or toxic coolants and automatically shut down when it runs out of the water which makes it a perfect and safe choice for summer.
Ultra Quiet Operation With Adjustable Speed: This portable air cooler features a powerful yet ultra quiet motor, making it ideal to use throughout the night for a sound sleep or working for hours without any disturbance. With 3 adjustable speed, you can set it as per your convenience and comfort. It fits nicely on your desk, nightstand or coffee table – wherever you need it!
USB Powered and Built-In LED Lights: No more worrying about electricity cuts or expensive bills as EasyCool™ can be powered via any USB port including your charger, laptop, power bank and more. Also, it comes equipped with 7 soothing LED lights that can be adjusted to any of its 7 color options, or set to the color-cycle mode or turned off with the touch of a button.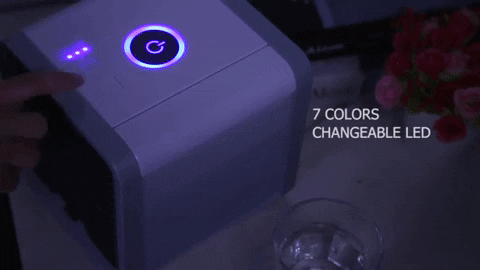 Super Easy Setup: You no longer need to deal with bulky coolers and complicated setups! Simply Fill with water, plug EasyCool™ into any standard wall outlet or USB port and done! As simple as that! With a large water tank, it runs for up to 8 hours in a single fill, making sure you enjoy your leisure, sleeping or work time without worrying about the scorching heat.
Perfect Summer Companion:
Don't Wait, Add to Cart Now And Enjoy a Cool Summer Anywhere !
100% SATISFACTION GUARANTEE
1. No Risk, 30-Day Money Back Guarantee.
2. 100% Quality Inspection on every order.
3. FREE Shipping. No surprises or hidden fees.
4. Safe Payments via Credit/Debit Card or PayPal®
5. End to End Tracking for every order.